Secure Mobile Transaction Processing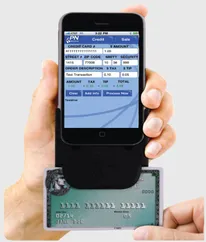 Accept credit cards anytime, anywhere through your iPhone, Blackberry or Droid!!!
Are you mobile?
Merchant Services of San Diego makes wireless transaction processing available at swiped rates through common smart phones and cell phones. Currently, we offer attachments for: iPhone, Droid, Blackberry, iPad, and iPod.
Merchant Benefits:
Lower Cost: Generally, wireless terminals cost around $800-$1000. The smart phone attachment cost you only $179, offering a much lower investment than dedicated wireless transaction processing units.
Swiped Rates: You get a lower rate when you swipe a credit card opposed to key entering the card number. Instead of your sales rep calling in the credit card number, have them swipe it on location and save you money.
Real-Time Processing: No chasing after customers for declined transactions.
East of Use: Less time consuming than phone-in (voice) processing.
Reporting: Online tracking and transaction reports.
Lower Overhead: No personnel needed in the back room to do manual entry authorizations
Multi-Function Device: Turn your smart phone into a true jack of all trades: Phone, email, texting, internet, and credit card terminal.
Call us today for more details on this amazing new technology! 800-652-3434